Leg Compression Machine For Home Use [2018 – Top 3 Reviewed]
With an increasing number of leg compression machines available on the market in 2018 it can be difficult to decide which is the best leg compression massager for you. This article will focus on reviewing and comparing the 3 best leg massage machines for home use. Although you can now purchase sequential compression devices for use on different areas of the body, this article will focus on the best compression machines for legs.
"Leg Compression Massager? Leg massage machine? Sequential compression device? Air compression leg massager? What is this difference?"
It can be confusing when there are so many different terms for these devices. However you may be surprised to know that these are all pneumatic compression devices that work in a similar manner. You attach a sleeve to a part of your body and then a pump inflates this sleeve with air in order to massage the area of the body.
Leg compression machines are used to deliver Intermittent Pneumatic Compression (IPC). This basically means the sleeves are inflated in a particular order to give a massaging and detoxing affect on the body. When looking to buy one of these leg compression machines you may find yourself asking
"What are the differences between these machines? They all look the same"
This is true, on the face of it they do all look quite similar, which is why we have included an in depth look at each, and a summary at the end where we evaluate the main advantages of each unit. It was a difficult task to choose the best leg compression device due to the outstanding quality available on the market currently, but without further ado lets take a look at the CureMyCramp.com Top 3.
---
 Sequential Air Compression Leg Massager by Air Relax
First up is the Sequential Air Compression Leg Massager by Air Relax. This device was featured recently in our recent Top 5 review of Products To Remedy Cramp. Here we will take a more in depth look at this unit.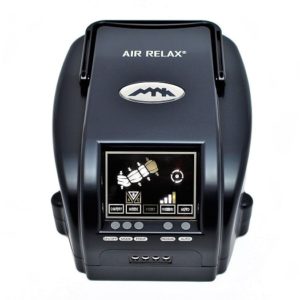 Features:
Four Advanced Leg Air Massage Modes – Peristaltic, Sequential, Massage, Auto Mode (Peristaltic + Sequential)

Four Pressure Levels (0-230mmHg)

A visual display shows you what areas of your legs are being massaged.

Has accessories so the Air Relax can for used with legs, arms and waist. Also leg extenders for tall users.

Portable and light-weight.

Durable anti-scratch case with built-in handle.

Safety Feature – 15 Minutes Auto Shut off Cycle

1 year Air Relax Device/Pump Warranty and a 1 year Warranty on ALL Sleeves (boots, arm, waist).
The following video shows the Air Relax in action:
Spec:
FDA Cleared Medical Grade Device.

110-120V U.S. Household outlet.

Power Use: 30W

Device Size : 10.2(W) x7.0(H)x 5.1(D)-Inch

Boots Size: [Standard 30-Inch Inseam], [Opening: 27-Inch] [Mid Thigh: 24-Inch] [Knee: 20-Inch] [Calf: 18-Inch] [Ankle: 16-Inch] [Arch(Instep): 13-Inch]. Extension cuffs are available to increase circumference.
Who It's For?
This equipment will be beneficial for anyone experiencing the following:
Lymphedema (Leg & Foot Swelling)
Sport injuries
Poor blood circulation
Venous insufficiency
Knee problems, Tension, Varicose Veins, Water Retention, Cramps, Pain and Soreness
Other circulatory and peripheral vascular conditions
How It Works?
This device works in a similar manner to other leg compression massagers. The main difference this unit has over others is the different massage modes available. It can be set so the different air chambers inflate together at once, separately until all are inflated, or inflating and deflating one at a time. Or a combination of the above. These programmes can be run for up to 15 mins.
Pricing & Purchase
The base price for this unit including the standard accessories is around $400. However this price varies depending on the accessories you purchase with it, and whether you purchase additional protection cover. For the latest price please click here.
Pros
Over 96% of Amazon reviewers recommend Air Relax leg massager and it is also recommended by Physicians, chiropractors, and professional therapists. It comes with a 1 year warranty which you can extend up to 3 years. It is quiet when operating and can be used in the comfort of your own home, either in your armchair or in bed. Lots of positive testimonies exist for it's use with such conditions as restless legs. You can also tailor the programme so you have the right pressure focussing on the right leg areas for you. The feet sections also provide an optional pressure point massage for the feet. Optional accessories are also available which allow it's use on other parts of the body if needed.
Cons
There are some minor annoyances with this unit, such as each program only lasting 15 mins so you have to restart the device again after 15 mins. Also there is no battery so you have to plug it in at the wall to use (however Air Relax now offer a power adapter for use in the car).
Also the sleeves that come with this are not unfortunately one size fits all. Obviously everyone is shaped different, but there are reports that if you are either less than 5ft tall or over 6ft then you may find the standard leg sleeves are too short or long. To be sure, please check the manufacturer guidelines for sleeve size. However the manufacturer does offer additional sleeve sizes through their website.
Final Opinion
If you want complete control over your leg air massages then this device is second to none. The four modes cover every combination of massage possible for your legs, with the option to select the desired pressure also. Some may find the short operating programme somewhat inconvenient, but for many this may be enough time to start seeing results.
---
V3 Sequential Air Compression Leg Massager by Doctor Life
Next up is the V3 Sequential Air Compression Leg Massager from Doctor Life. The V3 is one of the most popular leg compression machines from Dutch air compression therapy manufacturer Doctor Life. Doctor Life pride themselves on providing technology which is both cost effective and based on research.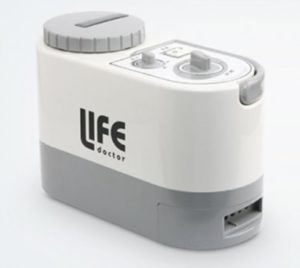 Features:
Easy to Operate and Carry

Low Noise

Adjustable Pressure 20-240mmHg

Adjustable Operating Time 0-30mins

Includes : 2 Leg Sleeves (1 Pair), 2 Foot Pads (1 Pair), 1 Double Hose, 1 Single Hose, Doctor Life Device, Power Cable and User Manual.

Additional Accessories – Arm, waist and centerbody cuffs. Extension zipper

Comes In Four Sizes (M, L, XL, XXL) and has an extension zipper to go wider again

1 year device warranty, 6 month sleeve warranty
Check out the following video showing the V3 being fitted:
Spec:
Power/Consumption – 110-120v/40W

Weight – 2.1kg (device only)

Size – 110mm(D) x 245mm(W) x 200mm(H) (device only)
Who It's For?
The V3 is beneficial for anyone experiencing the following:
Water Retention and Swelling (Lymphedema) in the Legs & Feet
Helps Relieve Knee Problems
Relieves Tension
Cramps
Restless Leg Syndrome
Venous Insufficiency
Reduces Pain and Soreness
Faster Workout Recovery for All Athletes

How It Works
Once activated this device works like a wave which begins inflating at the feet and then works it's way up to the thigh, then deflates and starts at the feet again. The sleeves have different sections which are inflated and deflated in this order.
Pricing & Purchase
This device is typically available for less then $299, and at time of writing comes with FREE shipping. For the latest price however please click here.
Pros
The V3 boasts an impressive list of benefits to it's use. It provides an air leg massage which also has a stretching effect on the limbs which would benefit anyone who spends long periods in bed. The V3 increases blood circulation whilst promoting abdominal breathing which increases oxygen in the blood. On top of this it helps the body detox as it also stimulates the body's Lymphatic system (the body's sewer) whilst also lowering cholesterol.
But it doesn't stop there. The makers of the V3 also claim facial toning will be improved due to the toxin removal the unit provides. Finally, using the V3 will help release Endorphins and Amino Acids that work as natural painkiller on the body. The makers claim there are no side effects to using the V3 and the operating costs are minimal for this unit due to the low power consumption.

Cons
There are reports from some users of the leg sleeves not fitting well, and the sleeves not applying enough pressure. However on further investigating by the manufacturer this appears to be down to buyers who have not consulted the manufacturers guidelines when selecting the correct sleeve size when purchasing. This is an important element to get right when purchasing such a device, so please see the check the size guidance when purchasing.
Final Opinion
The V3 consistently receives overwhelmingly positive reviews from people who have purchased one. There are reports that this device can make a difference after just one use, particularly for people experiencing swelling in their lower limbs. The V3 also has the potential to stop cramps at night following it's use. There are also positive testimonies from people who have reported the V3's ability to improve circulation.
The sleeves on the V3 generally fit very well. And if you combine the range of sizes available with the fact you can choose the time and pressure to suit you, you really can get the perfect massage at home with this unit. Worried about the noise? This unit is not even as loud as a vacuum cleaner. In fact it is so quiet some users reports falling asleep with them on! Finally there is a reliable customer support service on hand who are always happy to offer help following your purchase. Also comes with a 1 year warranty. An excellent leg massager for circulation.
---
 Sequential Compression Sleeve and Pump By Powerpress Unit
Our third and final leg massage machine is the Sequential Compression Sleeve and Pump By Powerpress Unit.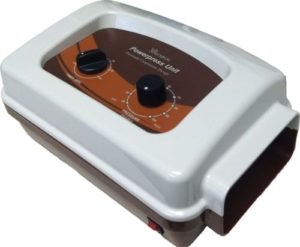 This unit works particularly well as a lymphedema pump for legs and works in a similar manner to the previous leg compression devices we have mentioned. The main difference with this unit however is the seamless air cells between each chamber in the leg sleeves. The manufacturer claims this improves the ability of the unit to move blood and lymph back up the legs to reduce swelling. The following graphic illustrates this further: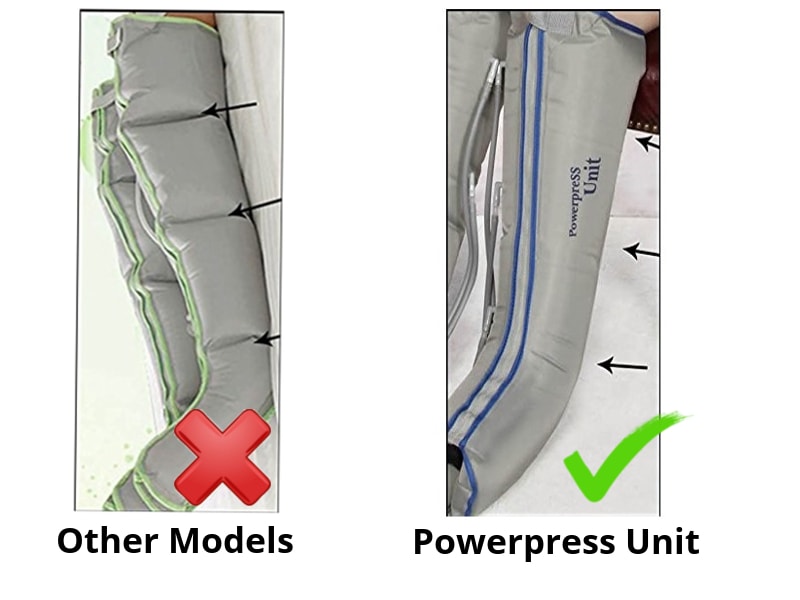 Features:
FDA Cleared / Medicare Approved

Gradient Sequential 4 Chamber Half Leg Therapy – Pump + 2 Large Size Half Leg Garments + Bilateral Connector.

Gradient Squeezing Compression Mode – Proven to be the Best for Blood, Lymph Circulation Therapy. Pressure: 20 ~ 100 mmHg, 60 min Timer.

High Technology Compression System; Inflate air 36 sec, 1st chamber – Inflate air 27 sec, 2nd chamber – Inflate air 18 sec, 3rd chamber – Inflate air 9 sec, 4th chamber – deflate air 24 sec for all 4 chambers

Integrated handle for easy transportation.

Half leg or full leg version available, with leg width extenders available.

Washable Sleeves
Spec:
220v/50hz or 110v/60hz units available

Size – 12″(L) x 9″(W) x 6″(H)

Product Weight – 5lbs
Who It's For?
This unit is beneficial for anyone looking to…
Relieve Painful, Swollen Thighs, Legs, Feet & Arms
Relieve Cold, Heavy, Stiffness and Tension in Legs & Arms
Warm up and Relax muscles
This will suit anyone who spends long hours standing or sitting at their job, or is confined to a bed or wheelchair. Also anyone who experiences Lymphedema, Edema, Chronic Venous Insufficiency, Varicose Vein, Wound Therapy caused by poor blood circulation, Tired, Swollen, Aching feet and legs.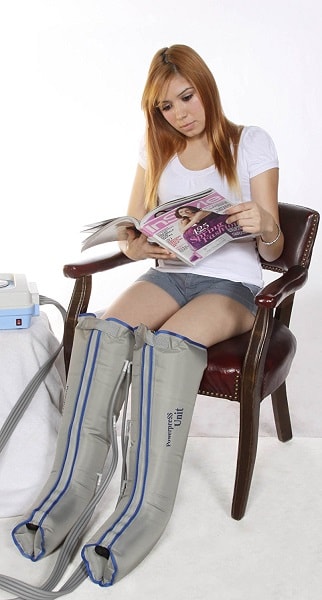 How It Works?
Air chambers within the leg section slowly inflate from the feet up to the thigh. This has the effect of moving blood and lymph back up the legs to reduce swelling. Pressure can be set up to 100 mmHgm with up to a 60 min programme available.
Pricing & Purchase
This device is typically available for around $400, however for the latest price please click here.
Pros
This device is ideal for reducing lower limb swelling, and claims to do this more efficiently than other models due to it's seamless air cell technology. This device may provide immediate results for leg, foot and ankle swelling. As with the other models this offers a quiet (comparable to the noise level or a microwave), low power consumption operation. It is also a great leg massager for circulation.
This device has the longest operating time of the models covered here in this article. Also it comes with a 1 year warranty and has overwhelmingly positive reviews for the customer service experience.
Cons
While pressure and programme length can be altered, things like chamber inflation order cannot. Some users have also reported that the feet sections on the standard sleeves are quite tight (they offer a foot circumference of 12″). This device also offers the lowest pressure out of all the units reviewed here. Also in terms of the look of the device, I think the design of the unit presents as somewhat dated now compared to the Air Relax or V3 units.
Final Opinion
Don't let the somewhat dated design fool you. This device has proven itself to be the device for relieving lower limb swelling (Lymphedema). You may even start to see results after just one use. Simply plug in, select your pressure, and enjoy for up to an hour. This device is the go to choice for a lymphedema pump for legs.
---
So…which is best overall???
Obviously there are pros and cons to all the units we have covered here, and it is difficult to pick just one. All of these devices are easy to operate, transport, and offer a low noise, and energy efficient operation.
The recurring theme with each however is that the benefits really do depend on selecting the correct sized leg sleeve, so please pay close attention to manufacturer recommendations for sleeve size when buying. Really though you cannot go wrong with any of these great units.
Overall the three devices can be summed up as follows:
Sequential Air Compression Leg Massager by Air Relax
Most Customisable Massage Programmes – Four advances modes offering many combinations of massage.
Endorsed by Health Professionals – For reassurance you are buying a quality product.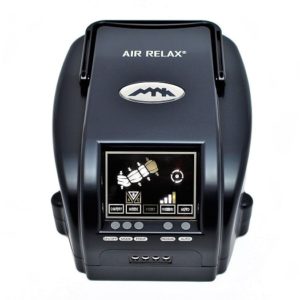 V3 Sequential Air Compression Leg Massager by Doctor Life
Best Range of Sleeve Sizes – For that perfect fit.
Offers The Highest Pressure Setting – For when you need a really deep massage (240mmHg versus 230mmHg and 100mmHg).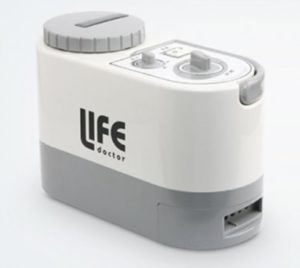 Sequential Compression Sleeve and Pump By Powerpress Unit
Best Lymphedema Pump For Legs – Proven to relieve oedema/water retention.
Longest Programme Time – Can be used for up to 60mins at a time.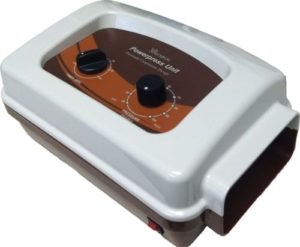 ---
Thanks for checking out this article, I hope it was useful in helping you select the best sequential compression device for home use for you. Please check out our other CureMyCramp.com reviews and comment below!